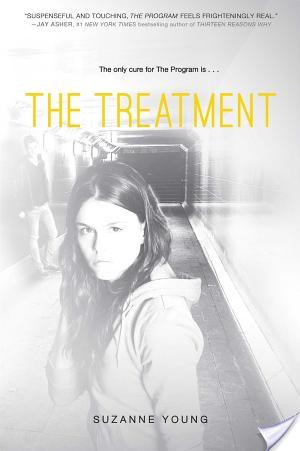 The Treatment by Suzanne Young
Series: The Program #2
Published by Simon and Schuster on 2014-04-29
Genres: Depression & Mental Illness, Dystopian, Love & Romance, Science Fiction, Social Issues, Suicide, Young Adult
Pages: 352
Goodreads


Can Sloane and James survive the lies and secrets surrounding them, or will The Program claim them in the end? Find out in this sequel to The Program, which Publishers Weekly called "chilling and suspenseful."

How do you stop an epidemic? Sloane and James are on the run after barely surviving the suicide epidemic and The Program. But they're not out of danger. Huge pieces of their memories are still missing, and although Sloane and James have found their way back to each other, The Program isn't ready to let them go. Escaping with a group of troubled rebels, Sloane and James will have to figure out who they can trust, and how to take down The Program. But for as far as they've come, there's still a lot Sloane and James can't remember. The key to unlocking their past lies with the Treatment—a pill that can bring back forgotten memories, but at a high cost. And there's only one dose.

Ultimately when the stakes are at their highest, can Sloane and James survive the many lies and secrets surrounding them, or will The Program claim them in the end?
Nam laoreet sapien non sollicitudin consequat. Duis libero ligula, adipiscing sed elit ut, iaculis rutrum nibh. Nullam in lorem suscipit, varius tortor sit amet, sagittis odio. Proin a felis diam. In sit amet venenatis ante, vel tincidunt enim. Vivamus condimentum egestas est vitae ornare. Phasellus sollicitudin eros tellus, eu gravida urna consequat vel. Fusce adipiscing, mi at porttitor vehicula, arcu urna facilisis massa, nec cursus ante massa vitae risus. In sit amet ante eu nulla convallis faucibus. Duis volutpat euismod adipiscing. Aliquam sit amet mattis metus. Vivamus sagittis aliquet libero, vitae adipiscing nulla. Aliquam tristique elit vitae lorem semper, rutrum convallis ipsum dictum. Nullam eu orci vel lacus lacinia vehicula in vel lorem. Duis ac lacus a dolor lobortis faucibus vel eu tortor. Mauris posuere, magna sed venenatis ultrices, nisl felis gravida est, vel molestie quam tortor sed urna.
Sed sed enim sit amet lacus ultrices mattis. Morbi id feugiat risus. Maecenas euismod, purus vitae porta hendrerit, nisl mi pharetra ante, non consequat dui nibh non ligula. Suspendisse pulvinar nunc pulvinar velit accumsan, sit amet condimentum felis porta. Nullam ut iaculis dui. Pellentesque sed sem in nisi lacinia posuere. Nullam a vulputate ipsum. Suspendisse pretium tellus eget est consectetur dapibus. Nunc lacinia ante id est rutrum cursus. Proin vitae nunc ut erat viverra posuere eu eu quam. Nunc feugiat adipiscing feugiat. Duis dictum ullamcorper metus, in aliquet tortor hendrerit at. Ut a faucibus massa, ac luctus turpis.
Maecenas at est urna. Aliquam scelerisque, mauris vitae imperdiet elementum, urna velit varius quam, non pellentesque ligula lorem quis leo. Praesent a fringilla est. Proin a ipsum sed orci luctus ultrices. Curabitur sollicitudin orci augue, eget porta ante euismod eu. Sed congue iaculis augue, eget pharetra diam. In volutpat lectus a vulputate hendrerit. Pellentesque habitant morbi tristique senectus et netus et malesuada fames ac turpis egestas. Ut convallis auctor arcu, sed malesuada lacus consectetur sit amet. Nam sed tempus enim. Vivamus porta mi sit amet elit vehicula lacinia. Praesent ac tortor sed mauris dictum semper. Proin luctus commodo leo.